Partners
The Ph.D. program in Business for Society (B4S) is part of the University of Milano-Bicocca educational and knowledge transfer system. It has developed a number of Executive PhD positions bridging the gap between the academic and business worlds. Furthermore, it benefits from collaborative activities with a number of institutions and companies willing to jointly build innovative knowledge and competencies.
AVSI, a non-profit organization founded in 1972, implements development and humanitarian aid projects in 33 countries, including Italy.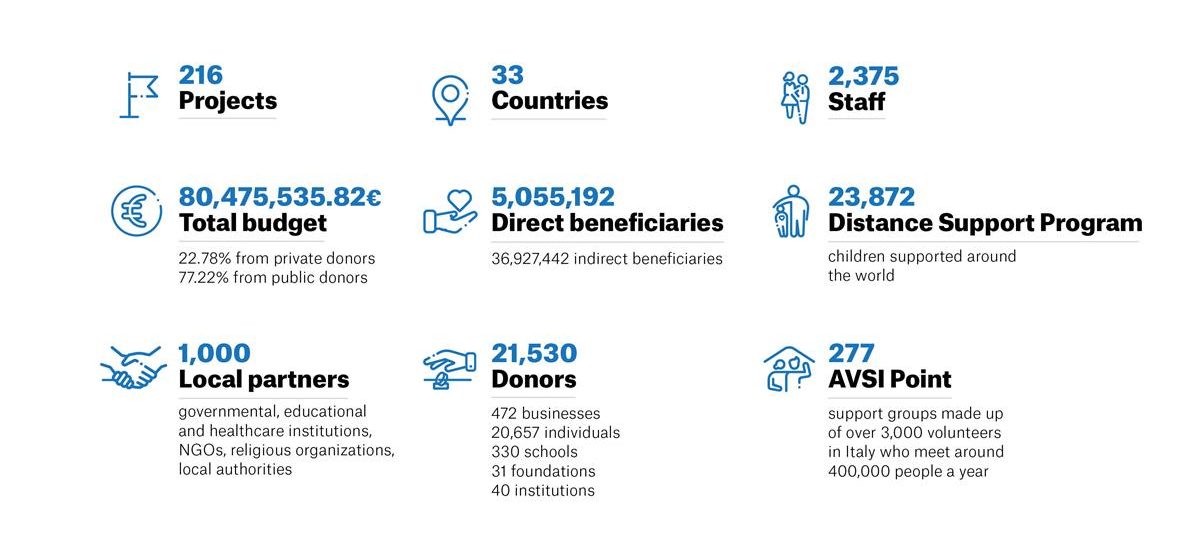 AVSI vision: to work for a world in which every person is the protagonist of his and her community's integral development, even in emergency contexts. In the last year it has helped more than 5 million people in need, including 23,872 children through distance support. Its main areas of intervention are: Education, which for AVSI is the cornerstone of development, Environment, Democratization, Energy, Agriculture and food security, Education, Child protection, Health, Human rights, Livelihood and economic strengthening, Nutrition, Cities and sustainable communities, Vocational training and job creation, Water.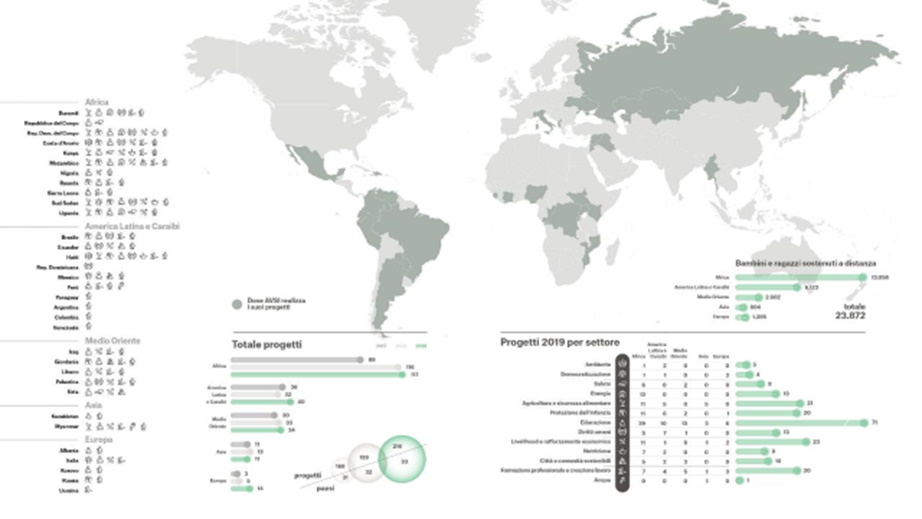 AVSI Foundation places people at the center, whether they are beneficiaries, donors, partners, or the AVSI staff itself, and for this reason offering a highly professionalizing path is important. The possibility of qualifying some staff members on relevant issues in the field of international cooperation, even at a theoretical level, allows to systematize the skills acquired in the field in a comparison with academic disciplines that can confirm, correct, optimize the capacity for sustainable impact in 'implementation of projects. This is why we immediately took the opportunity of an industrial doctorate with the University of Milano-Bicocca.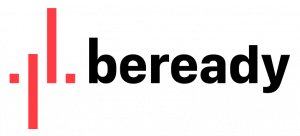 BEREADY IS AN OPEN INNOVATION AGENCY FOCUSED THE NEWNESS CHALLENGES OF RETAIL INDUSTRY
Beready is an upfront Entity focusing in customer experience, design, omnichannel, phygital touchpoint which continuously contaminates itself with the global market, startup hubs, universities, sector associations, global tour in order to generate an ever broader vision enriched with different skills, necessary for the new challenges of the Retail Industry. Retail management, marketing, shopping experience, design, hybrid solution are some of our skills and ability.
Beready and the University of Milan Bicocca have identified the research path that can be carried out through the PhD in Business for society dedicated to executives. The research project will allow to reconstruct the history, the current situation and create a prospective framework of work on the research objectives.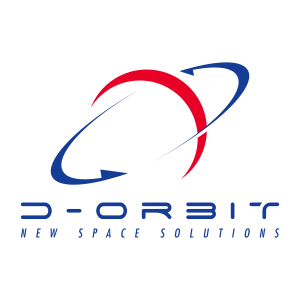 Founded in 2011, D-Orbit is the first company addressing the logistics needs of the space market. ION Satellite Carrier, for example, is a space vehicle that can transport satellites in orbit and release them individually into distinct orbital slots, reducing the time from launch to operations by up to 85% and the launch costs of an entire satellite constellation by up to 40%. ION can also accommodate multiple third-party payloads like innovative technologies developed by startups, experiments from research entities, and instruments from traditional space companies requiring a test in orbit. The whole, fully redundant ION can be rented for edge computing applications and space cloud services to provide satellite operators with storage capacity and advanced computing capabilities in orbit.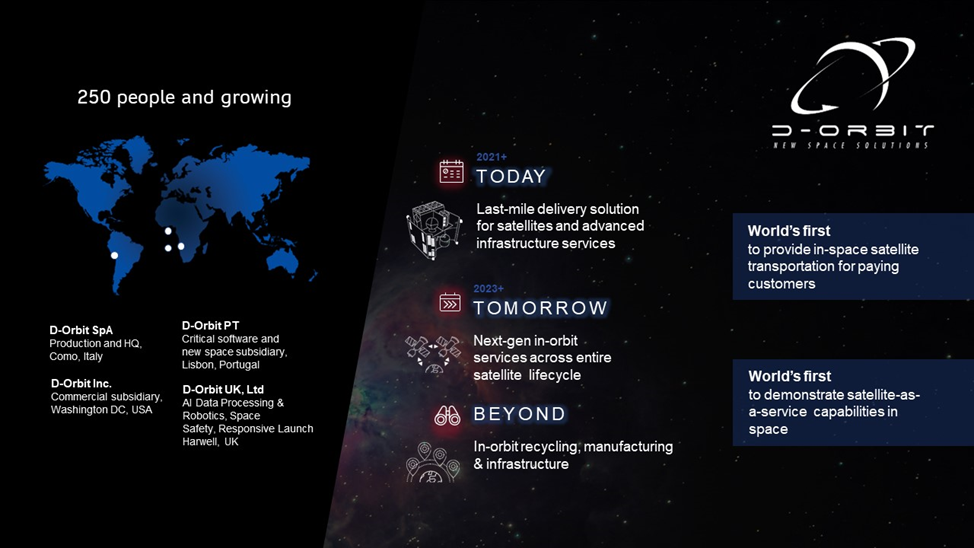 The 2020 ORIGIN mission represented the first time a orbital transportation vehicle successfully operated in orbit, rapidly transporting 12 satellites to their destination. Since then, the company has successfully flown over 80 payloads across six missions.
As it looks to the future, D-Orbit is already developing and testing new technologies aimed at extending the life of the satellites in orbit, active debris removal, interplanetary space logistics, and more, laying out the foundations of an infrastructure that will broaden humankind's opportunities to operate in space and colonize the solar system.
D-Orbit has offices in Italy, Portugal, UK, and the US; its commitment to pursuing business models that are profitable, friendly for the environment, and socially beneficial, led to D-Orbit becoming the first certified B-Corp space company in the world.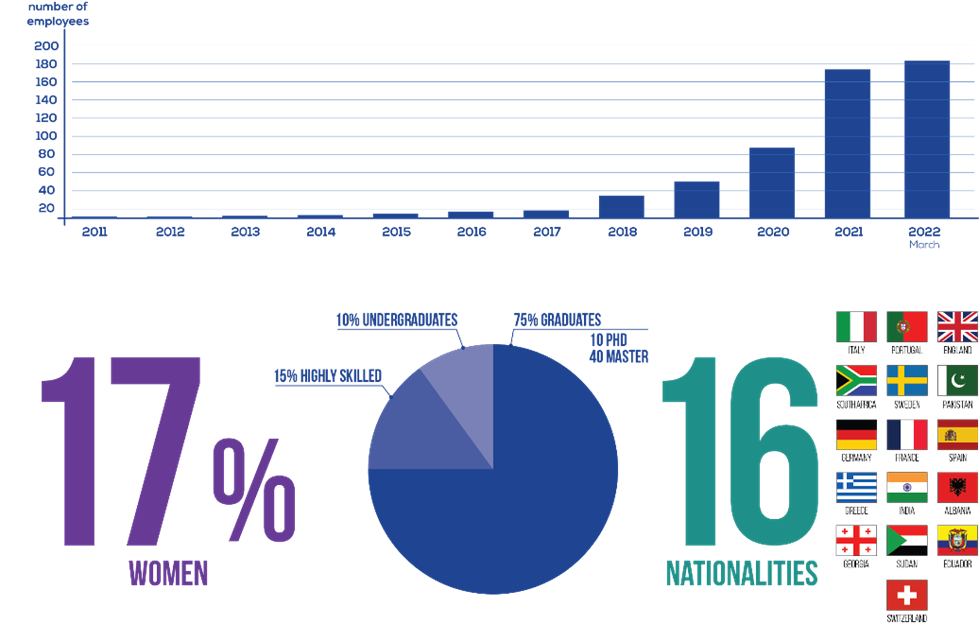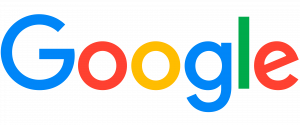 Google and the University of Milano-Bicocca have agreed to activate 4 Ph.D. positions in Business for Society with Executive courses reserved for Google employees with distinct specializations and skills. The scholarships are addressed to four different Departments: legal; marketing, and consumers; economic, media and partnership; tech and computer science. Four areas that describe specific declinations of a single research project aimed at analyzing and evaluating the impact that general-purpose technologies have had on the economy and society historically. 
Research - first and foremost - aimed at reconstructing the most significant past experiences to better understand the most recent phenomena of the present and identify the most relevant trends of the future. Technologies have always influenced social and economic development models, effects of which became even more relevant after the advent of the Internet and digital innovation. An evolution that will be increasingly disruptive in the future. The research intends to describe this evolution to understand the present and upcoming trends better, defining sustainable innovation models.
This research and its results represent a common (and central) goal, both for the University of Milano-Bicocca and Google, perfectly fitting among the main interests of the Ph.D. program in Business for Society.
Google, as we know, is a global protagonist of the progress of innovation - not only - digital. Behind this progress, there is a constant research activity carried out internally, but also in collaboration with the most important universities and independent research centers in various countries. These collaborations lead to orienting and enriching these advances, guaranteeing a level of full scientific awareness concerning the trends of technological, economic, and social development.
The one between Google Italy and the Ph.D. program in Business for Society is an essential and significant research collaboration that focuses on the role that technological innovation has in economic and social development with a careful eye on sustainability.
The scientific specializations of the teaching staff, together with the skills of the executive Ph.D. students employed by Google, will make it possible to achieve innovative and unprecedented results, which will positively affect further research projects and teaching practices.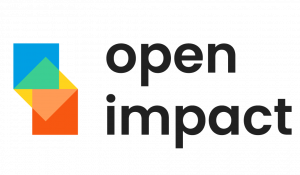 Open Impact is an innovative start-up and accredited spin-off of the University of Milano-Bicocca that provides services and develops digital products for the measurement, enhancement and management of impacts in a perspective of integrated sustainability.
Open Impact was founded in 2019 thanks to the meeting of a mix of experiences and skills coming from the world of academic research, social innovation and digital development.
By collecting and systematising a huge amount of internationally validated open-source impact assessments, Open Impact has managed to create the first database in Italy for impact benchmarking. The Open Impact Database is designed to support organisations in identifying the impact they generate, linking it to the 17 UN Sustainable Development Goals (SDGs) and other sustainability taxonomies, such as BES and ESG.
All Open Impact activities are characterised by the use of the Open Impact Database, Platform and digital tools that enable impact-driven organisations and consortium to scale their potential.
OI co-funds a Doctoral Fellowship to enable pathways for research on impact metrics.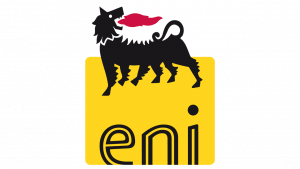 Eni is an energy company that explores and produces hydrocarbons. Eni is present in over 67 countries and has over 30 thousand employees. Eni has a strong commitment to digitalisation and decarbonisation and concretely supports a just energy transition, with the objective of preserving our planet and promoting an efficient and sustainable access to energy for all.
ENI provides lectures within the PhD Business for Society, on topics within our competence, such as: climate change management, climate change economics, energy transition, EU Green Deal, behavioral economics.